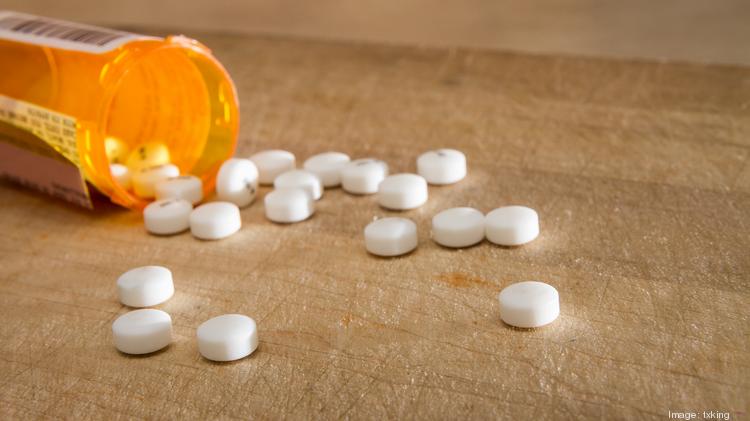 Verily, formerly known as Google Life Sciences, is part of a multi-organization partnership for a future mental behavioral health and drug addiction treatment offering for Dayton-area residents, confirm multiple sources. (Getty Images)
Google (Nasdaq: GOOG) is preparing to enter the Dayton market with what could be a revolutionary way to treat mental health and drug addiction illnesses.
Google's parent company Alphabet Inc. is bringing one of its subsidiaries — Verily — to the Dayton region, sources close to the deal confirm.
Verily, formerly known as Google Life Sciences, is part of a multi-organization partnership for a future mental behavioral health and drug addiction treatment offering for Dayton-area residents, confirm multiple sources.
This newsroom is told a significant number of area business leaders from sectors of health care, mental health and addiction services, educational institutions, and other public and private entities, have signed non-disclosure agreements regarding the deal. This project has been in the works for about a year now, sources tell us, and should be in place by the end of the year.
A spokeswoman from California-based Verily declined to comment on any possible deals. Verily was founded in 2015 and is a research company "focused on using technology to better understand health, as well as prevent, detect, and manage disease," according to its website.
The Dayton Business Journal has learned Verily's drug treatment program may include residential housing for those in drug addiction rehabilitation. The company has told those with knowledge of the deal that Dayton is an ideal "test market" for the program.
While the specifics of the project have not been revealed, it appears to be significant in nature and carries the heft of Google with it.
Montgomery County had the state's second highest rate of unintentional drug overdose deaths in 2017 with 521 deaths — trailing only Cleveland's Cuyahoga County which recorded 598 deaths, according to the Ohio Department of Health. From 2012 to 2017, Montgomery County had 1,680 people die from drug overdoses — the third highest rate for an Ohio county behind Cuyahoga (2,160) and Hamilton (1,716).
More than 70 percent of Ohio's drug deaths in 2017 were related to illegally-produced fentanyl and related drugs like carfentanil, which are opioids. The presence of fentanyl in overdose deaths has risen significantly since 2014 when it was involved in only 20 percent of drug deaths, according to state data.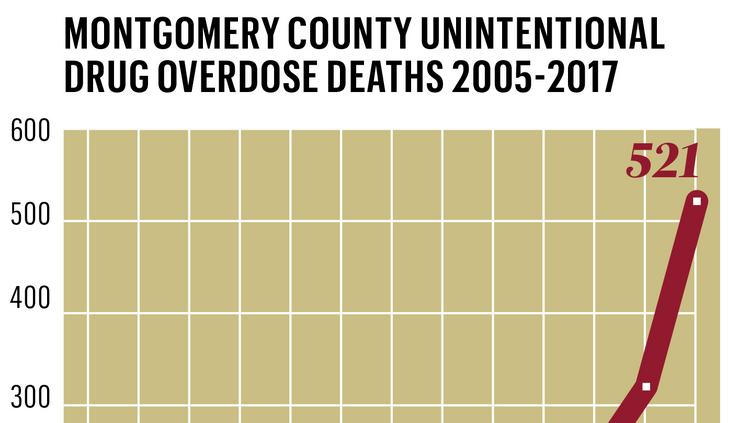 Montgomery County's rate of unintentional drug overdose deaths from 2005 to 2017 have been rising. (John Hancock/DBJ)
According to its website, "Verily lives at the intersection of technology, data science and healthcare. … Verily is developing tools to collect and organize health data, then creating interventions and platforms that put insights derived from that health data to use for more holistic care management."
Groups with stakes in the partnership include several public and private entities including the Greater Dayton Area Hospital Association (GDAHA), which represents a multitude of hospitals and health systems; Alcohol, Drug Addiction and Mental Health Services (ADAMHS) of Montgomery County; and politicians.
In Dayton Mayor Nan Whaley's State of the City address made in February she addressed the opioid epidemic and work by GDAHA to tackle issues around it.
Whaley's address read: "The Greater Dayton Area Hospital Association is looking at a better way to serve individuals with addiction, dependence, and mental health issues. People who suffer from one or all of these diseases often are shuffling between the healthcare, criminal justice and treatment systems. This is not the best method of intervention, and can become a drain on resources. GDAHA is working with local health systems to identify ways to streamline these services into a one-stop-shop of sorts, where someone can be evaluated and directly connected with the resources they need. This innovative view of healthcare could have a profound impact on the friends, family, and neighbors who are struggling in our community."
The Dayton Business Journal last November reported GDAHA was working to open a new stabilization and detox center in Montgomery County that would create 16 to 32 units for crisis stabilization, assessment and detox services. Upon last report, GDAHA was seeking almost $2 million to help construct the center. The DBJ is seeking an update from GDAHA on this initiative.
Nationally, one in five adults has a mental illness. And about half of those with a substance abuse disorder have a co-occurring mental illness, according to the National Alliance on Mental Illness.
Each year the state of Ohio invests more than $1 billion into efforts to battle drug abuse and addiction at state and local levels.
A large focus of efforts in recent years has been around prescription opioids, which often become costly and lead the addicted user to cheaper means like heroin and fentanyl. Ohio has created prescribing guidelines for medical providers; strengthened prescription drug monitoring; and made new regulations for drug wholesalers, according to ODH.
Those efforts have resulted in a 28 percent decline in prescription opioid-related overdose deaths from 2011 to 2017.
"The good news is Ohio is seeing significant progress in reducing the number of prescription opioids available for abuse, and as a result, prescription opioid-related overdose deaths that don't also involve fentanyl are at their lowest level since 2009," said Ohio Department of Mental Health and Addiction Services Director Dr. Mark Hurst. "This progress is significant because prescription opioid abuse is frequently a gateway to heroin and fentanyl use."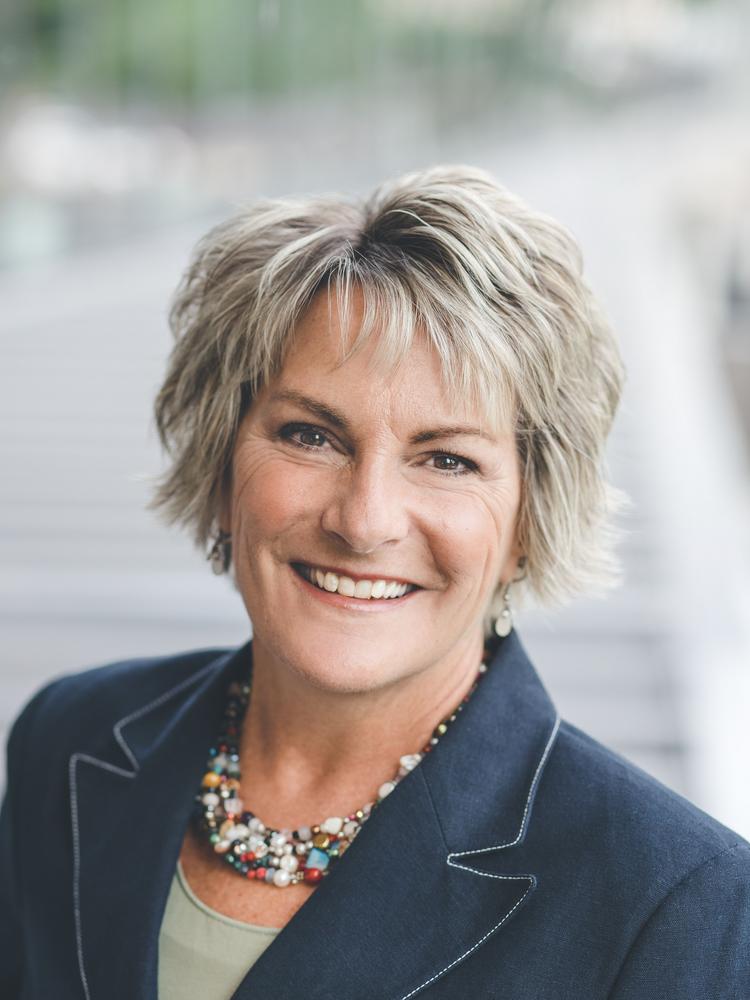 Kim Bramlage is marketing and communications manager at Five Rivers Health Centers in Dayton. (Five Rivers Health Centers)
Five Rivers Health Centers, a federally-qualified health center with locations in Montgomery and Greene counties, offers a mental behavioral health assessment to patients when they arrive to a location, but often refer patients to outside agencies for ongoing counseling and treatment, said Kim Bramlage, marketing and communications manager.
"We would welcome any other resources or organizations that could potentially help our patients," Bramlage said.
Five Rivers, as a medical home to its patients, primarily provides primary care services. They do have behavioral health specialists and a psychiatrist on staff. Five Rivers is on track to exceed 25,000 patient visits this year.
A nonprofit agency on Dayton's east side, the Life Enrichment Center offers several services and programs around mental behavioral health and addiction illnesses, said Jeffrey Sorrell, executive director. Those programs include a weekly clean needle exchange that sees from 80 to 120 people each week; a peer support group twice a week; HIV and Hepatitis C testing; Narcan training; and the organization Families of Addicts is housed inside the Life Enrichment Center building.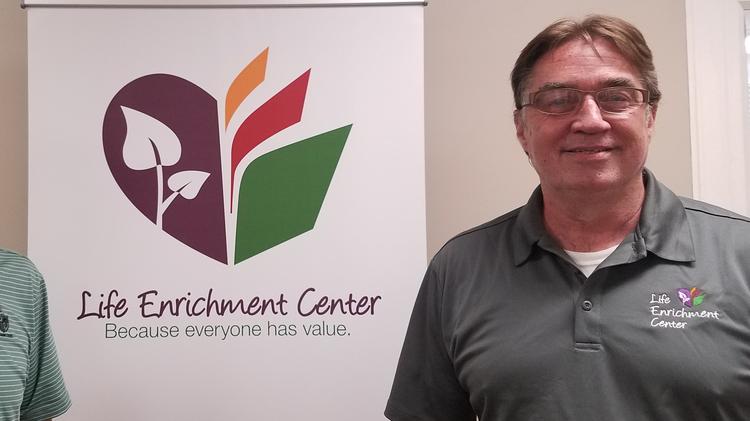 Jeffrey Sorrell, founder and executive director of Life Enrichment Center. (Hannah Poturalski/DBJ Staff)
"You can never have enough (services); there are not enough beds in the area," Sorrell said. "A lot of recovery groups don't play well together in the sandbox; they're very competitive."
Sorrell said another new group offering services in town can only be a good thing for Dayton-area residents. He said "there's room for everyone," and having the possibility of more treatment beds in Dayton will help serve more residents at the moment they seek the help.
"You have to get them when they're ready," Sorrell said, not three days later when a bed becomes available. "Most of the people with drug issues have had a trauma in their life and have mental health issues. It can be an ugly circle where they keep perpetuating."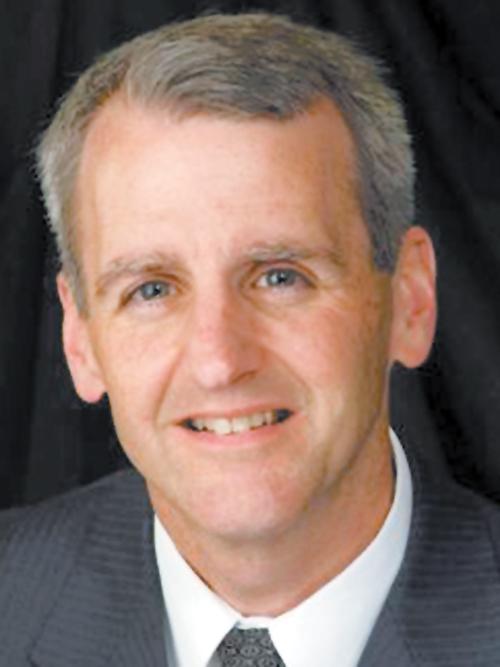 Montgomery County Commissioner Dan Foley.
Montgomery County Commissioner Dan Foley said he's glad to hear of another large group investing in mental health and addiction services for residents of Montgomery County.
"Any investment to strengthen the infrastructure of mental health care in the region is more than welcomed," Foley said. "There's been a gradual disinvestment in mental health infrastructure and it's time we reverse that disinvestment."
More options also are becoming available for those under the age of 18. Foley said currently eight out of 10 children in need of mental health care, go without any medical care at all.
Dayton Children's Hospital this past summer opened its new behavioral crisis center with six rooms for treating pediatric patients in immediate danger of harming themselves or others. The hospital is currently building a 24-bed inpatient mental behavioral health unit for those patients needing hospitalization. The pediatric hospital serves patients up to age 21.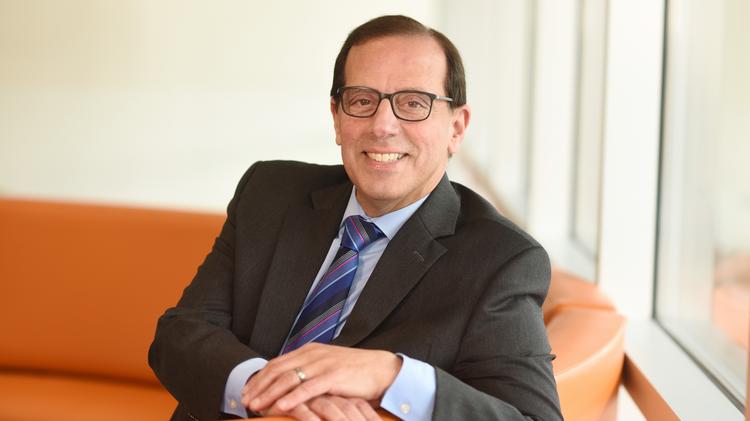 Dr. Gregory Ramey is a pediatric psychologist and the executive director for the Center for Pediatric Mental Health Resources at Dayton Children's Hospital. (Dayton Children's Hospital)
Dr. Gregory Ramey, PhD, a pediatric psychologist and the executive director for the Center for Pediatric Mental Health Resources at Dayton Children's Hospital, said mental behavioral health in the next two to four years will grow to become a huge component of the pediatric hospital's services. They are currently adding more staff to support this growing need, including psychiatrists, social workers, nurses and clinicians.
In the first year, Ramey said he anticipates 1,500 visits to the behavioral crisis center. That will grow to 3,000 visits a year, he said.
The inpatient unit will open in summer 2019, and will allow the hospital to keep its mental health patients inside their own hospital, instead of transitioning them to a non-pediatric hospital.
Ramey did not comment for this story on any plans by the company Verily, and many other leaders in the community declined to comment on the company's efforts as well.


Hannah Poturalski, Dayton Business Journal, October 1, 2018
Google effort to tackle opioid epidemic